Mastic Asphalt Balconies "Prince of Dubai" Inverinate
4 Scholars Row
Mawsley
Kettering
Northamptonshire
NN14 1GZ
Tel/Fax: 01536 791725
Mobile: 07976 666846
Four Balconies were installed at the Newly built 16 bedroom mansion for the Prince of Dubai on Inverinate Estate, Lochalsh, overlooking Loch Duich. Over five hundred miles from our base in Northamptonshire.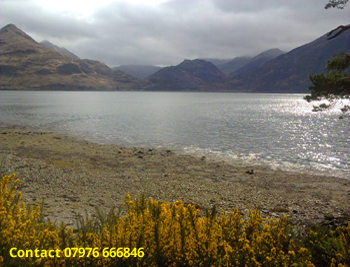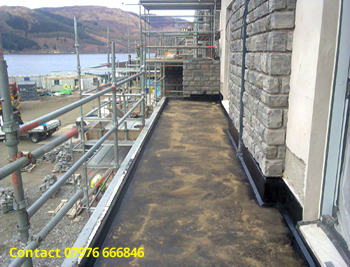 Polymer Modified
Polymer Modified mastic asphalt laid to falls to both ends on Long Balconies
Polymer modified mastic asphalt roofing was specified for this project. This gives increased thermal stability to the mastic asphalt in extreme weather conditions, amongst other benefits.
Polymer modified
Polymer modified mastic asphalt detail to harmer outlets on all balconies.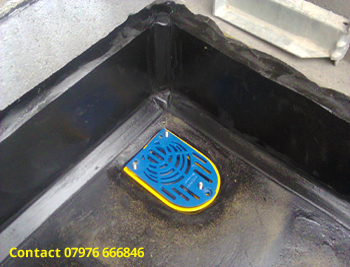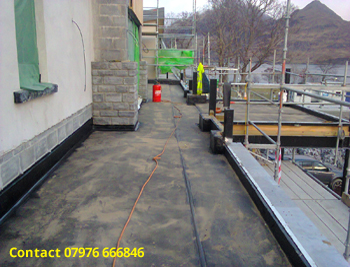 Main Balcony near completion
The main balcony covers the reception and dining room areas to the mansion.
Main Balcony specifications included, insulation boards cut to falls 100mm average thickness on 2 layers torch on vapour barrier felt system to concrete base on high bond primer we installed 3 layers for good measure. Then polymer modified mastic asphalt roofing grade laid to fall's on black sheeting felt underlay, sand rubbed finish with all up stands and fillets as required.
Drying areas
Carefully drying all areas to receive asphalt insulation.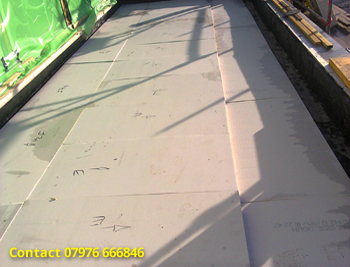 Insulation
Enertherm PIR MG Insulation cut to falls glued to vapour barrier membrane.
Gutter sole
Gutter sole area laid first in polymer modified asphalt for good drainage to outlets.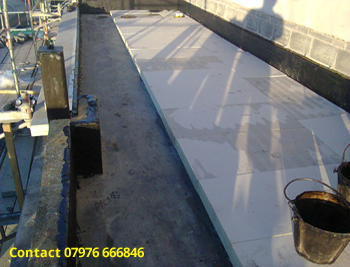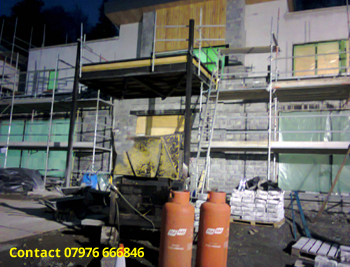 Winter
Winter warmth in the highlands!
The finish surface will be decking on support pads with the polymer modified mastic asphalt protected from any form of point loading.
Alternatives can be tiles, slabs, rubber mating, synthetic grass and more, all with the correct underlay and support allowing the mastic asphalt the protection required.
Ladywood Road, Four Oaks, Birmingham - Other details can be
Mastic asphalt
Mastic asphalt on timber kerb prepared for roof light measurements as required, or options for ladder access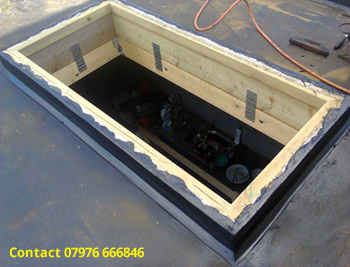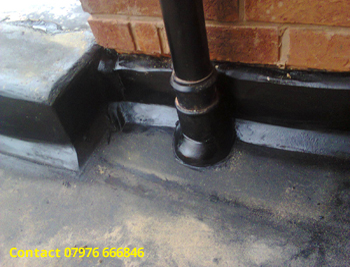 Down Pipe
Details to down pipe though mastic asphalt.
Asphalted in Preparation
Steps asphalted in preparation to take slabs to suit stone work detail.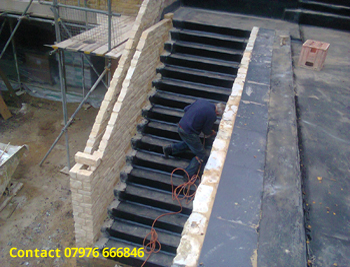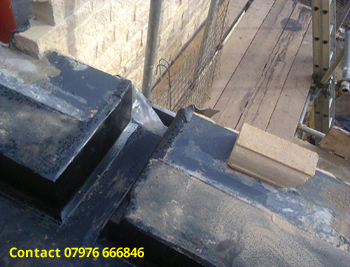 Lead Chute Detail
Shows mastic asphalt dressed to box outlet lead chute detail.
Often overlooked design to balcony
Shows asphalt up and over step to take patio doors they sit on top of the asphalt kerb, this is an important detail to give a watertight junction with the sills.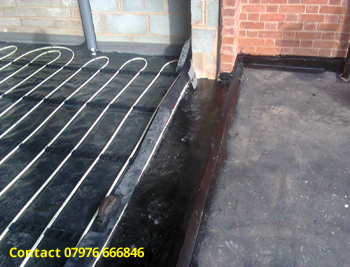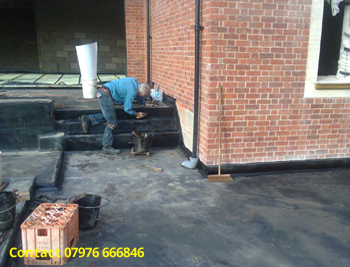 Mastic asphalt
Mastic asphalt up stands and fillets applied to join both balcony levels.
Higher level
Higher level balcony looking down.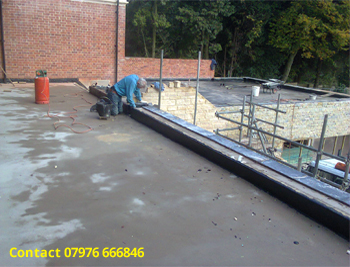 The details above mainly on work for Peter Jennings LTD, Birmingham, award winning NHBC Builder.
Henley balcony, Corby Town Centre
New railings
New railings to balcony mastic asphalt cut out and reinstated to collars watertight detail, allowing swift progress for installation of glass panels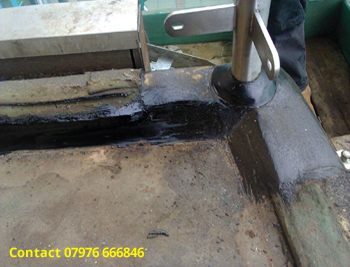 Corner post detail
The existing mastic asphalt is over 50 years old and can still be repaired